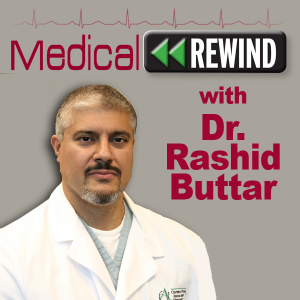 If you missed any of the Medical Rewind shows with Dr. Rashid A. Buttar and Robert Scott Bell, be sure to go to www.MedicalRewind.com to listen to the show replays.
..
TO DOWNLOAD: Click on "DOWNLOAD MP3" in the player below.
Get ready to learn things not traditionally taught to medical doctors!
Some of the things you will hear Dr. Buttar and Robert talk about in this week's show are:
Is your thyroid sleeping on the job?  The thyroid is one of those functional parts of the body that doesn't get a lot of attention until it starts having problems. Although this little gland in your neck is a small one, it produces the thyroid hormone that affects your metabolism——and indirectly, every other function of your body. Having a sleepy, underactive thyroid (hypothyroidism) can lead to some real health problems, making diagnosis and treatment essential.
One-Quarter of Cancer Patients Use Medical Marijuana, Study Finds One of the most well-known purported uses for medical marijuana is to alleviate symptoms related to cancer treatment, and a new study finds that use of the drug among cancer patients is not uncommon. In the study, which included more than 900 cancer patients in Seattle, nearly one-quarter reported using medical marijuana in the past year. In addition, almost all the participants said they wanted to learn more about medical marijuana, according to the study, published today (Sept. 25) in the journal Cancer.
Sugar over sex? Almost half of those polled would rather give up sex for a year than sacrifice their daily sugar hit A survey carried out by SimplyHealth revealed that the U.K.'s excessive sugar consumption continues to affect a large number of people, many of whom even willing to forgo sex than cutting back on their daily sugar intake. The survey examined more than 2,000 respondents and found that 41 percent were willing to sacrifice sexual intimacy rather than reducing their sugar intake. The survey also found that one in 10 people said they could not go a single day without sugar.
Question of The Day! "Hello I just recently had a colostomy it's to be for six months and then reversed.I had been suffering from from diverticulitis and been put on antibiotics several times. I also have microscopic colitis. I would really appreciate your help in preparing my intestines for the upcoming surgery to get the best results and then know how to keep them healthy."
… AND MUCH MORE – LISTEN NOW!
Is there life after Trans-D Tropin? YES there is. There is an option. Did you know about the FDA destroying supplement companies by claiming that their products are unapproved new drugs? Click here to read a special message and find out the alternative to Trans-D Tropin.
..
How can you get an Advanced Medicine Seminar in your city?
Just get 50 or more of your friends together and contact info@drbuttar.com to learn the details.
..
Remember to pick up the international best seller "9 Steps To Keep the Doctor Away!" http://www.the9steps.com/ (if you buy the book, you can get a DVD for an incredible discount!)
..
..