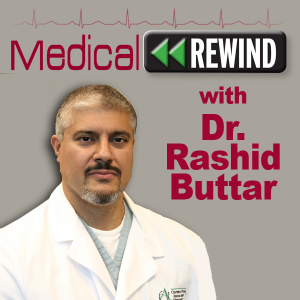 If you missed any of the Medical Rewind shows with Dr. Rashid A. Buttar and Robert Scott Bell, be sure to go to www.MedicalRewind.com to listen to the show replays.
..
TO DOWNLOAD: Click on "DOWNLOAD MP3" in the player below.
Get ready to learn things not traditionally taught to medical doctors!
Some of the things you will hear Dr. Buttar and Robert talk about in this week's show are:
One of the best-known regions of the brain, the cerebellum accounts for just 10 percent of the organ's total volume, but contains more than 50 percent of its neurons.  Despite all that processing power, it's been assumed that the cerebellum functions largely outside the realm of conscious awareness, instead coordinating physical activities like standing and breathing. But now neuroscience has discovered that it plays an important role in the reward response – one of the main drives that motivate and shape human behavior.
Explosion in rickets, gout and scarlet fever caused by processed junk food and inflationary monetary policy?  Well, it should all work together….
There is no longer any doubt that what happens in the brain influences what happens in the body. When facing a health crisis, actively cultivating positive emotions can boost the immune system and counter depression. Studies have shown an indisputable link between having a positive outlook and health benefits like lower blood pressure, less heart disease, better weight control and healthier blood sugar levels.
Millions of Australian adults are unvaccinated and it's increasing disease risk for all of us
… AND MUCH MORE – LISTEN NOW!
Is there life after Trans-D Tropin? YES there is. There is an option. Did you know about the FDA destroying supplement companies by claiming that their products are unapproved new drugs? Click here to read a special message and find out the alternative to Trans-D Tropin.
..
How can you get an Advanced Medicine Seminar in your city?
Just get 50 or more of your friends together and contact info@drbuttar.com to learn the details.
..
Remember to pick up the international best seller "9 Steps To Keep the Doctor Away!" http://www.the9steps.com/ (if you buy the book, you can get a DVD for an incredible discount!)
..
..