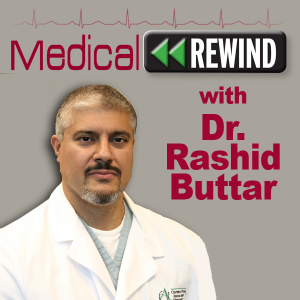 If you missed any of the Medical Rewind shows with Dr. Rashid A. Buttar and Robert Scott Bell, be sure to go to www.MedicalRewind.com to listen to the show replays.
..
TO DOWNLOAD: Click on "DOWNLOAD MP3" in the player below.
Get ready to learn things not traditionally taught to medical doctors!
Some of the things you will hear Dr. Buttar and Robert talk about in this week's show are:
Is your gallbladder healthy? 10 signs in may not be, and what to do about it The gallbladder plays a central role in maintaining a healthy digestive profile. This tiny organ is located just below the liver and is essential in releasing bile into the digestive tract in order to metabolize food. Fatty foods are known to negatively impact the organ's overall health. Cholesterol deposits are shown to trigger the onset of gallbladder stones, which are the crystalline formations that develop in the biliary tract. Gallbladder stones vary in size and chemical composition.
Pollution linked to 9 million deaths worldwide in 2015, study says The fatal effects of pollution are seen across our planet. In 2015, nearly one in six deaths, an estimated nine million worldwide, was related to pollution in some form — air, water, soil, chemical or occupational pollution, according to a new report published Thursday in The Lancet. Air pollution is by far the largest contributor to early death, according to the new research produced by The Lancet Commission on Pollution and Health. This form of pollution is linked to 6.5 million fatalities in 2015.
New study finds HPV vaccine to be safe for adult women Although most human papillomavirus prevention efforts are targeted toward adolescents, a new study found that the HPV vaccine is safe for adult women. While the U.S. Food and Drug Administration originally approved Gardasil, a vaccine against HPV, in 2006 for use with pre-teen and teen girls, and later added approvals for boys, more adult women are opting for vaccination and the safety of the vaccine in adults has not been the subject of many trials.
Patients need rest, not antibiotics, say health officials More patients should be told to go home and rest rather than be given antibiotics, according to health officials. Public Health England (PHE) says up to a fifth of antibiotic prescriptions are unnecessary as many illnesses get better on their own. Overusing the drugs is making infections harder to treat by creating drug-resistant superbugs. PHE says patients have "a part to play" in stopping the rise of infections.
Question of The Day!

Hi Robert and Dr. Buttar,

We are in the UK and I came across a video regarding Silver, my 17yr old daughter is Gardasil damaged and was diagnosed with epilepsy. We are doing a healthy diet and no pharmaceutical products. I wanted to know if the silver can help and anything else that could aid recovery?

Thanks
Mandy
… AND MUCH MORE – LISTEN NOW!
Is there life after Trans-D Tropin? YES there is. There is an option. Did you know about the FDA destroying supplement companies by claiming that their products are unapproved new drugs? Click here to read a special message and find out the alternative to Trans-D Tropin.
..
How can you get an Advanced Medicine Seminar in your city?
Just get 50 or more of your friends together and contact info@drbuttar.com to learn the details.
..
Remember to pick up the international best seller "9 Steps To Keep the Doctor Away!" http://www.the9steps.com/ (if you buy the book, you can get a DVD for an incredible discount!)
..
..