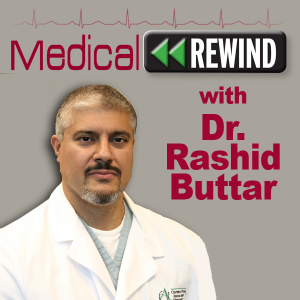 If you missed any of the Medical Rewind shows with Dr. Rashid A. Buttar and Robert Scott Bell, be sure to go to www.MedicalRewind.com to listen to the show replays.
..
TO DOWNLOAD: Click on "DOWNLOAD MP3" in the player below.
Get ready to learn things not traditionally taught to medical doctors!
Some of the things you will hear Dr. Buttar and Robert talk about in this week's show are:
Dangerous unproven treatments for 'chronic Lyme disease' are on the rise. Or, is this just another pharmaceutical conflicted mainstream media report to discredit non-drug approaches to serious immune challenges?
Increasing number of Americans with medically ambiguous symptoms are being misdiagnosed with "chronic Lyme disease" and prescribed dangerous and often expensive treatments that do not work, according to a new report.
Woman wrongly diagnosed with cancer had unnecessary mastectomy, suit claims.

Lead found in 20% of baby food samples, especially juices and veggies. 

"Activity levels at the end of adolescence were alarmingly low, and by age 19, they were comparable to 60-year-olds," said Vadim Zipunnikov, author of a recent study at the Johns Hopkins Bloomberg School of Public Health.
… AND MUCH MORE – LISTEN NOW!
Is there life after Trans-D Tropin? YES there is. There is an option. Did you know about the FDA destroying supplement companies by claiming that their products are unapproved new drugs? Click here to read a special message and find out the alternative to Trans-D Tropin.
..
How can you get an Advanced Medicine Seminar in your city?
Just get 50 or more of your friends together and contact info@drbuttar.com to learn the details.
..
Remember to pick up the international best seller "9 Steps To Keep the Doctor Away!" http://www.the9steps.com/ (if you buy the book, you can get a DVD for an incredible discount!)
..
..