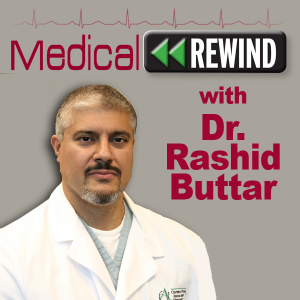 If you missed any of the Medical Rewind shows with Dr. Rashid A. Buttar and Robert Scott Bell, be sure to go to www.MedicalRewind.com to listen to the show replays.
..
TO DOWNLOAD: Click on "DOWNLOAD MP3" in the player below.
Get ready to learn things not traditionally taught to medical doctors!
Some of the things you will hear Dr. Buttar and Robert talk about in this week's show are:
Outrage over pharmaceutical company that created 'fake' cancer patients  Corporations have a responsibility to their customers and the public to be ethical, honest, and forthright. But that obligation is heightened to a degree for pharmaceutical firms, especially the ones whose customers are dealing with serious illness or acute, chronic pain. Executives concocted an elaborate scheme in which they created "fake" cancer patients to improve sales, according to a Senate investigation whose findings were released last week. The report from the Senate Committee on Homeland Security and Governmental Affairs was released just days after Arizona Attorney General Mark Brnovich filed a consumer fraud lawsuit against Insys and three doctors over a "marketing scheme" to increase sales of the drug. Brnovich called the action part of a fight against "the unethical and greedy behavior in the pharmaceutical industry that is fueling the opioid crisis in our state."
American Heart Association Says Meditation May Reduce Heart Disease  The American Heart Association has joined the chorus of voices recognizing the benefits of a regular meditation practice. In a statement titled, "Meditation and Cardiovascular Risk Reduction: A Scientific Statement From the American Heart Association," the AHA calls meditation a "potential attractive cost‐effective adjunct to more traditional medical therapies."The AHA conducted a systematic review of the studies on potential benefits of meditation on cardiovascular risk and found that, "Overall, studies of meditation suggest a possible benefit on cardiovascular risk." The AHA did caution that the overall quality and quantity of study data is "modest". The AHA looked at studies examining the physiological response to stress, smoking cessation, blood pressure reduction, insulin resistance and metabolic syndrome, endothelial function, inducible myocardial ischemia, and primary and secondary prevention of cardiovascular disease.
SKEPDUCK ALERT – (FOX NEWS)The "dangers" of using 'home remedies' for serious illnesses One, the home remedy recommended by your friend — or one of the many websites promoting "natural therapies" — might not work. And two, it could make you sicker or even kill you. That's exactly what happened to an Australian man who developed cyanide poisoning after taking high doses of apricot kernel extract, hoping to prevent his prostate cancer from returning.
… AND MUCH MORE – LISTEN NOW!
Is there life after Trans-D Tropin? YES there is. There is an option. Did you know about the FDA destroying supplement companies by claiming that their products are unapproved new drugs? Click here to read a special message and find out the alternative to Trans-D Tropin.
..
How can you get an Advanced Medicine Seminar in your city?
Just get 50 or more of your friends together and contact info@drbuttar.com to learn the details.
..
Remember to pick up the international best seller "9 Steps To Keep the Doctor Away!" http://www.the9steps.com/ (if you buy the book, you can get a DVD for an incredible discount!)
..
..