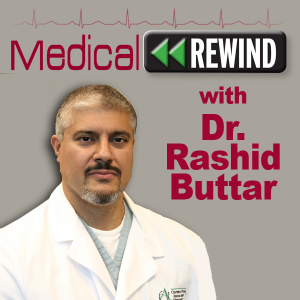 If you missed any of the Medical Rewind shows with Dr. Rashid A. Buttar and Robert Scott Bell, be sure to go to www.MedicalRewind.com to listen to the show replays.
..
TO DOWNLOAD: Click on "DOWNLOAD MP3" in the player below.
Get ready to learn things not traditionally taught to medical doctors!
Some of the things you will hear Dr. Buttar and Robert talk about in this week's show are:
Wars keep on killing: Gulf War illness causes DNA damage in vets, according to new research Gulf War Illness (GWI), or Gulf War Syndrome, is the name given to a cluster of chronic symptoms affecting Gulf War veterans
and civilian workers. The cause behind these symptoms — which range from fatigue to joint pains to memory problems — has been studied and debated on for the longest time. Yet scientists from Rutgers Medical School and the Veterans Affairs New Jersey Health Care System may have found an another potential answer, and lingering effect of this conflict; one that lies in mitochondrial DNA (mtDNA).
Skin Cancers Rise — Along With Questionable Treatments The Times analysis found a marked
increase in the number of skin biopsies per Medicare beneficiary in the past decade; a sharp rise in the number of physician assistants, mostly unsupervised, performing dermatologic procedures; and large numbers of invasive dermatologic procedures performed on elderly patients near the end of life. In 2015, the most recent year for which data was available, the number of skin biopsies performed on patients in the traditional Medicare Part B program had risen 55 percent from a decade earlier — despite a slight decrease in the program's enrollment overall.
Many grapple with PTSD after a cancer diagnosis Post-traumatic stress disorder (PTSD) is a psychological condition that develops in the aftermath of a particularly distressing event. The condition can be debilitating for many; it can lead to avoidance of places and contexts reminiscent of the trauma and may result in social isolation and negative coping strategies, such as substance abuse. t may come as no surprise, then, that many people diagnosed with cancer also develop PTSD. This is not just because the news always comes as a shock, but also because the aggressiveness of the treatment itself is often traumatic, as studies have confirmed.
7 Surprising Health Benefits of Gratitude Now is the season to think about what makes you most thankful, but research supports making it a year-round habit. Many studies have found there are benefits of gratitude — both mental and physical — and all it takes to enjoy them is a little bit of introspection. Here are seven surprising benefits of practicing gratitude.
Question of The Day!

Hi Robert and Dr. Buttar,

What advice can I give to a co-worker for her daughter?
Diagnosis is Osteo chondral defect. Treatment plan is ligament reconstruction & microfracture & biocartilage from Stanford. She would prefer to not go this route and is open to suggestions.

Thanks for all you do.

Robin
… AND MUCH MORE – LISTEN NOW!
Is there life after Trans-D Tropin? YES there is. There is an option. Did you know about the FDA destroying supplement companies by claiming that their products are unapproved new drugs? Click here to read a special message and find out the alternative to Trans-D Tropin.
..
How can you get an Advanced Medicine Seminar in your city?
Just get 50 or more of your friends together and contact info@drbuttar.com to learn the details.
..
Remember to pick up the international best seller "9 Steps To Keep the Doctor Away!" http://www.the9steps.com/ (if you buy the book, you can get a DVD for an incredible discount!)
..
..