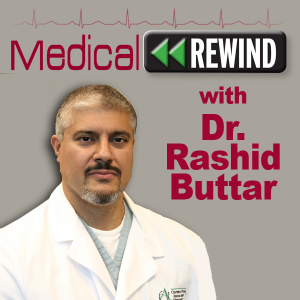 If you missed any of the Medical Rewind shows with Dr. Rashid A. Buttar and Robert Scott Bell, be sure to go to www.MedicalRewind.com to listen to the show replays.
..
TO DOWNLOAD: Click on "DOWNLOAD MP3" in the player below.
Get ready to learn things not traditionally taught to medical doctors!
Some of the things you will hear Dr. Buttar and Robert talk about in this week's show are:
Hidden side effects of drugs: Scientific America says medical studies often leave out adverse outcomes in their studies.  Drugs come with more side effects than are mentioned.
Logic should be taught in medical school.  Common sense in addition to education should be required to graduate medical school.
Listener Question:  Son diagnosed with AML in hospital suffered from serious mysterious infections and heart issues. Could this have anything to do with the Chemo he was given?
France let's workers turn off, tune out and chill out.  In America, we work ourselves "to the bone".  Nobody ever says "I wish I had worked more".  When you take down time, it is a form of recovery for your mind and your body.
… AND MUCH MORE – LISTEN NOW!
Is there life after Trans-D Tropin? YES there is. There is an option. Did you know about the FDA destroying supplement companies by claiming that their products are unapproved new drugs? Click here to read a special message and find out the alternative to Trans-D Tropin.
..
How can you get an Advanced Medicine Seminar in your city?
Just get 50 or more of your friends together and contact info@drbuttar.com to learn the details.
..
Remember to pick up the international best seller "9 Steps To Keep the Doctor Away!" http://www.the9steps.com/ (if you buy the book, you can get a DVD for an incredible discount!)
..
..