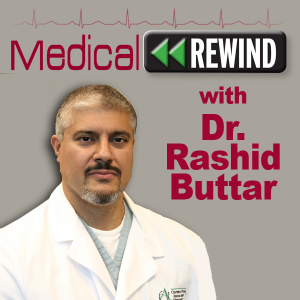 If you missed any of the Medical Rewind shows with Dr. Rashid A. Buttar and Robert Scott Bell, be sure to go to www.MedicalRewind.com to listen to the show replays.
..
TO DOWNLOAD: Click on "DOWNLOAD MP3" in the player below.
Get ready to learn things not traditionally taught to medical doctors!
Some of the things you will hear Dr. Buttar and Robert talk about in this week's show are:
In what may not make for the sexiest headline, a new study shows there's a link between constipation and kidney disease.  In the study, researchers examined health records from more than 3.5 million U.S. veterans, looking at whether they reported being constipated or had used laxatives over period of about seven years. They found that those who had experienced constipation had higher risks of developing chronic kidney disease and kidney failure than those who had not.
Higher doses of the cholesterol-lowering drugs known as statins appear to boost survival slightly for certain people, a large new study reports. The study followed more than 509,000 patients with various forms of cardiovascular disease. The researchers found that survival increased by 9 percent when people took high versus moderate doses of statin for a little over a year.
The number of U.S. adolescents and young adults with untreated depression may be on the rise, a recent study suggests. For youth ages 12 to 17, the prevalence of depression increased from 8.7 percent in 2005 to 11.3 percent in 2014, the study found. Among adults aged 18 to 25, the prevalence climbed from 8.8 percent to 9.6 percent during the study period. But there hasn't been much change in the proportion of teens and young adults seeking mental health treatment, the study also found.
… AND MUCH MORE – LISTEN NOW!
Is there life after Trans-D Tropin? YES there is. There is an option. Did you know about the FDA destroying supplement companies by claiming that their products are unapproved new drugs? Click here to read a special message and find out the alternative to Trans-D Tropin.
..
How can you get an Advanced Medicine Seminar in your city?
Just get 50 or more of your friends together and contact info@drbuttar.com to learn the details.
..
Remember to pick up the international best seller "9 Steps To Keep the Doctor Away!" http://www.the9steps.com/ (if you buy the book, you can get a DVD for an incredible discount!)
..
..