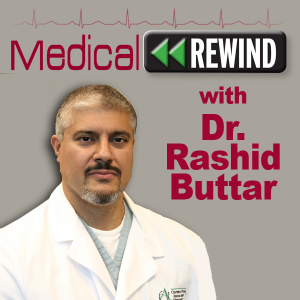 If you missed any of the Medical Rewind shows with Dr. Rashid A. Buttar and Robert Scott Bell, be sure to go to www.MedicalRewind.com to listen to the show replays.
..
TO DOWNLOAD: Click on "DOWNLOAD MP3" in the player below.
Get ready to learn things not traditionally taught to medical doctors!
Some of the things you will hear Dr. Buttar and Robert talk about in this week's show are:
Elimination organs hit the hardest by air pollution: Toxic particles cause cancer in the kidneys, bladder, bowel and lungs  Air pollution causes a myriad of illnesses, most notably diseases concerning the heart and lungs. Now a groundbreaking study has revealed that the toxins we are inhaling daily may also cause kidney and bladder cancer. According to Dr. Michelle Turner, first author of the study: "This research suggests that air pollution was not associated with death from most non-lung cancers, but the associations with kidney, bladder and colorectal cancer deserve further investigation." In the U.K., heart disease and stroke are the major causes of 40,000 premature deaths a year and six million sick days. Pollution has been identified as one of the key drivers of these diseases, with alarming pollution levels in 43 of the largest towns and cities in the U.K. – from Eastborne to London, Glasgow, Leeds and Birmingham – reported to be exceeding global safety limits.
Bill Gates' newest mission: Curing Alzheimer's For Gates, the fight is personal. He is investing $50 million of his own money into the Dementia Discovery Fund, a private-public research partnership focused on some of the more novel ideas about what drives the brain disease, such as looking at a brain cell's immune system. It's the first time Gates has made a commitment to a noncommunicable disease. The work done through his foundation has focused primarily on infectious diseases such as HIV, malaria and polio.
One vaccine injection could carry many doses MIT engineers have invented a new 3-D fabrication method that can generate a novel type of drug-carrying particle that could allow multiple doses of a drug or vaccine to be delivered over an extended time period with just one injection. The new microparticles resemble tiny coffee cups that can be filled with a drug or vaccine and then sealed with a lid. The particles are made of a biocompatible, FDA-approved polymer that can be designed to degrade at specific times, spilling out the contents of the "cup."
… AND MUCH MORE – LISTEN NOW!
Is there life after Trans-D Tropin? YES there is. There is an option. Did you know about the FDA destroying supplement companies by claiming that their products are unapproved new drugs? Click here to read a special message and find out the alternative to Trans-D Tropin.
..
How can you get an Advanced Medicine Seminar in your city?
Just get 50 or more of your friends together and contact info@drbuttar.com to learn the details.
..
Remember to pick up the international best seller "9 Steps To Keep the Doctor Away!" http://www.the9steps.com/ (if you buy the book, you can get a DVD for an incredible discount!)
..
..