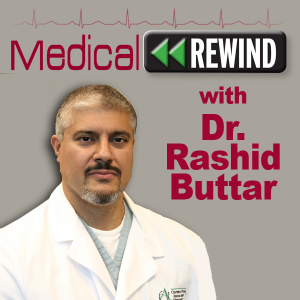 If you missed any of the Medical Rewind shows with Dr. Rashid A. Buttar and Robert Scott Bell, be sure to go to www.MedicalRewind.com to listen to the show replays.
..
TO DOWNLOAD: Click on "DOWNLOAD MP3" in the player below.
Get ready to learn things not traditionally taught to medical doctors!
Some of the things you will hear Dr. Buttar and Robert talk about in this week's show are:
A new study shows parents who go online to find out about the vaccine for human papillomavirus (HPV), a sexually transmitted disease that causes cervical cancer, may have a hard time finding accurate information.  Could it be that the majority of the available information is propaganda from the medical industrial complex?
The pharmaceutical company that came under fire for raising the price of the anti-parasite drug Daraprim says it will significantly lower the drug cost for hospitals, but not the overall list price. Daraprim, a drug by Turing Pharmaceuticals used to treat toxoplasmosis, had a list price of $750 per dose as of October 2015 — up from $18 per pill before Turing Pharmaceuticals bought the drug in August. Turing CEO Martin Shkreli, under fire for jacking up the price, had said back in September that he would lower it, but did not give details at the time. However, on Tuesday, Nancy Retzlaff, Turing's Chief Commercial Officer, pledged that no patient would be denied the drug based on their inability to pay and announced various price cuts to hospitals.

The GOP-led Congress wants to hand the IRS the keys to your freedom. The highway funding bill now making its way past lawmakers includes a provision that would allow the government to yank your passport if you owe the IRS more than $50,000.
Since Chinese officials slapped GlaxoSmithKline with a $489 million fine on bribery charges, the company has overhauled its sales practices to quash corruption. But some say its reforms could hurt its top line at a time when the company's already suffering. GSK has eliminated sales-based compensation incentives for reps, nixed doctor speaking fees and tripled an in-house compliance team that now checks every submitted receipt. The company says its staff is on board with those anti-corruption moves.
Visit the following and know more at Rtgpkg.com about the best pharmaceutical machines available in the market which can help you deliver the most perfectly packaged product to your consumers.
Did you know about the FDA destroying supplement companies by claiming that their products are unapproved new drugs? Is there life after Trans-D Tropin? Yes there is. Click here to read a special message.
..
How can you get an Advanced Medicine Seminar in your city?
Just get 50 or more of your friends together and contact info@drbuttar.com to learn the details.
..
Remember to pick up the international best seller "9 Steps To Keep the Doctor Away!" http://www.the9steps.com/ (if you buy the book, you can get a DVD for an incredible discount!)
..
..