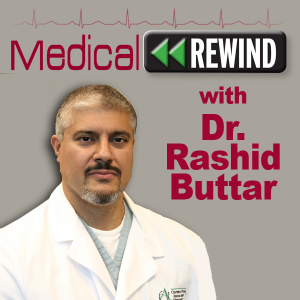 If you missed any of the Medical Rewind shows with Dr. Rashid A. Buttar and Robert Scott Bell, be sure to go to www.MedicalRewind.com to listen to the show replays.
..
TO DOWNLOAD: Click on "DOWNLOAD MP3" in the player below.
Get ready to learn things not traditionally taught to medical doctors!
Some of the things you will hear Dr. Buttar and Robert talk about in this week's show are:
As Babies are Prescribed Pharmaceuticals, Have We Reached Dystopia?Would you let a five-year-old smoke a joint? I certainly hope not. Yet that would probably be less harmful than loading kids up on pharmaceuticals.
Study Finds Disturbing Spike in Birth Defects in US Women Living Near Industrial Agriculture. An exhaustive new study is sounding the alarm over industrial pesticide use and its effect on human health. Pregnant women in California's San Joaquin Valley have a significantly greater chance of premature birth or birth abnormalities if they live near agricultural fields with high pesticide use.
Anti-abortion mom wins right to not vaccinate her son. A New York Russian Orthodox mom has won the right to exempt her autistic son from getting the school-mandated measles/mumps/rubella vaccination after citing her moral opposition to abortion, The Post has learned.
Stop injecting weed killer into your kids. Moms Across America founder Zen Honeycutt went live the other day to tell the world about the FDA giving her a big fat middle finger when she asked a simple question about the weed killer glyphosate– which is found in the formula for Roundup although Roundup is even worse than glyphosate alone– in the vaccines given in the childhood program.
The Race Is on for a 'Concussion Pill' as New NFL Season Begins. It sounds like science fiction. Or a Roger Goodell daydream. But the race to find just such treatments is already underway, and significant progress has already been made.
Teaching People To Visualize An Outcome Is More Effective Than Teaching People What To Do: Study.  An established but little-known psychological theory is likely to improve performances across a range of activities, including sport, according to new research published that can be applied to amateurs or skilled performers alike says psychologist Dr Warren Mansell, from The University of Manchester.
Medicaid fueling opioid epidemic? New theory is challenged.  An intriguing new theory is gaining traction among conservative foes of the Obama-era health law: Its Medicaid expansion to low-income adults may be fueling the opioid epidemic.
… AND MUCH MORE – LISTEN NOW!
Is there life after Trans-D Tropin? YES there is. There is an option. Did you know about the FDA destroying supplement companies by claiming that their products are unapproved new drugs? Click here to read a special message and find out the alternative to Trans-D Tropin.
..
How can you get an Advanced Medicine Seminar in your city?
Just get 50 or more of your friends together and contact info@drbuttar.com to learn the details.
..
Remember to pick up the international best seller "9 Steps To Keep the Doctor Away!" http://www.the9steps.com/ (if you buy the book, you can get a DVD for an incredible discount!)
..
..