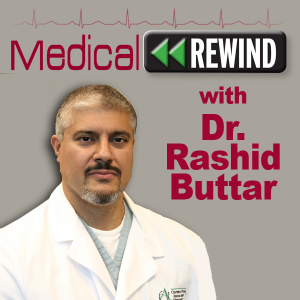 If you missed any of the Medical Rewind shows with Dr. Rashid A. Buttar and Robert Scott Bell, be sure to go to www.MedicalRewind.com to listen to the show replays.
..
TO DOWNLOAD: Click on "DOWNLOAD MP3" in the player below.
Get ready to learn things not traditionally taught to medical doctors!
Some of the things you will hear Dr. Buttar and Robert talk about in this week's show are:
Two Meta-Analysis Reviews Confirm (Yet Again) the Link between Mercury and Autism Spectrum Disorder Mercury is a potent neurotoxin. Even the smallest amounts can cause cumulative adverse effects. Two of the most widespread forms of mercury exposure come from the organic compounds methylmercury (found in fish) and ethylmercury, which makes up 50% of the vaccine preservative thimerosal. The Agency for Toxic Substances and Disease Registry (ATSDR) affirms that young children and fetuses are particularly sensitive to harmful mercury-related effects such as "brain damage, mental retardation, incoordination, blindness, seizures and inability to speak." This calls into question public health authorities' aggressive peddling of annual flu shots—many of which contain thimerosal. The influenza vaccine guidelines target all children who are at least six months of age, with two closely spaced doses recommended for very young children in their "first season of vaccination." They also target pregnant women and women who "might" be pregnant.
Neurontin and Lyrica are a Death Sentence for New Brain Synapses A shocking study shows block the formation of new brain synapses1, drastically reducing the potential for rejuvenating brain plasticity – meaning that these drugs will cause brain decline that apparently robs one of the ability to rebuild. The study demonstrating this type of brain damage with these two drugs came out in 2009 but apparently the media has been very lax in getting any of this information to the public – most likely because they do not want to jeopardize their advertising income from this company.
Gut bacteria may make or break your chances of cancer treatment working New, potent cancer therapies can act like daggers pressed into the hindquarters of the immune system, prodding it to lunge at any cancerous cells in the body. When the drugs work, the immune system tramples tumors into oblivion. But they don't always work—in fact, cancer drugs can fail 60 to 70 percent of the time. The drugs might not give the immune system a sharp enough sticking in every patient. But according to a pair of new studies, it may not be the immune system that needs a swift kick—it may be the gut.
Common Heartburn Meds Show Ties to Kidney Trouble If you're one of the millions of Americans who takes one of a class of anti-reflux meds such as Nexium, Prilosec and Prevacid, take heed: These drugs have been linked to higher odds of kidney trouble. The study couldn't prove cause-and-effect — it's possible that folks who need these heartburn medicines are simply more prone to kidney disease for other reasons. But the review of data did show a link. The medicines in question are called proton pump inhibitors (PPIs). They reduce stomach acid production and are among the most widely prescribed medications in the world.
… AND MUCH MORE – LISTEN NOW!
Is there life after Trans-D Tropin? YES there is. There is an option. Did you know about the FDA destroying supplement companies by claiming that their products are unapproved new drugs? Click here to read a special message and find out the alternative to Trans-D Tropin.
..
How can you get an Advanced Medicine Seminar in your city?
Just get 50 or more of your friends together and contact info@drbuttar.com to learn the details.
..
Remember to pick up the international best seller "9 Steps To Keep the Doctor Away!" http://www.the9steps.com/ (if you buy the book, you can get a DVD for an incredible discount!)
..
..