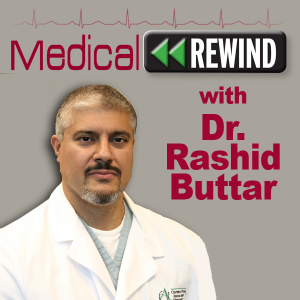 If you missed any of the Medical Rewind shows with Dr. Rashid A. Buttar and Robert Scott Bell, be sure to go to www.MedicalRewind.com to listen to the show replays.
..
TO DOWNLOAD: Click on "DOWNLOAD MP3" in the player below.
Get ready to learn things not traditionally taught to medical doctors!
Some of the things you will hear Dr. Buttar and Robert talk about in this week's show are:
A Look at Mercury and Cardiovascular Disease Mercury's toxic properties have been apparent 
for centuries. Nonetheless, from the time of the first Emperor of China on, doctors have been fascinated with the metal's purported curative properties. In the 19th and early 20th centuries, health practitioners blithely used mercury as a medical treatment for everything from syphilis to teething discomfort to dysentery.
Rush to treat liver patients causing more harm than good Doctors risk overdiagnosing the most common and fastest-growing liver condition, exposing patients to harmful tests, according to a study published today. It is estimated that one in four people in the world is suffering from non-alcoholic fatty liver disease (NAFLD), and there are concerns it could lead to cirrhosis. Expert bodies in Europe are now calling for patients to be screened for the condition and the National Institute for Health and Care Excellence (NICE) in the UK has issued guidance to doctors indicating that at-risk groups should be tested.
Pilots Would Rather Leave the Military than be Forced to get Anthrax Vaccine Many news stories about vaccines bludgeon readers with the message that it is unacceptable to raise questions about vaccine safety. When the topic of vaccine safety manages to run the gauntlet and enter into public debate, the focus usually is on childhood vaccines. But what about the neglected topic of adult vaccine safety? The question is a reasonable one because adults are experiencing increasing pressure from health workers to say yes to various shots. Although most adults (at least for now) can still decline, adults in the military are subject to extremely onerous vaccine regulations that require them to receive up to a dozen vaccines, depending on the region where they are serving. These include vaccines that most other American adults will never encounter, including shots for rabies, typhoid—and anthrax.
Generation at risk: America's youngest facing mental health crisis The Centers for Disease
Control and Prevention reports that 1 in 5 American children ages 3 through 17 — about 15 million — have a diagnosable mental, emotional or behavioral disorder in a given year. Only 20 percent of these children are ever diagnosed and receive treatment; 80 percent — about 12 million — aren't receiving treatment. Recent research indicates that serious depression is worsening in teens, especially girls, and the suicide rate among girls reached a 40-year high in 2015, according to a CDC report released in August.
… AND MUCH MORE – LISTEN NOW!
Is there life after Trans-D Tropin? YES there is. There is an option. Did you know about the FDA destroying supplement companies by claiming that their products are unapproved new drugs? Click here to read a special message and find out the alternative to Trans-D Tropin.
..
How can you get an Advanced Medicine Seminar in your city?
Just get 50 or more of your friends together and contact info@drbuttar.com to learn the details.
..
Remember to pick up the international best seller "9 Steps To Keep the Doctor Away!" http://www.the9steps.com/ (if you buy the book, you can get a DVD for an incredible discount!)
..
..