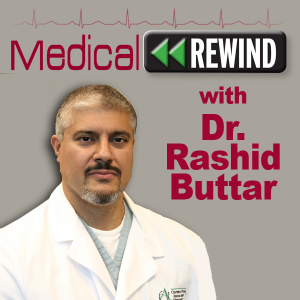 If you missed any of the Medical Rewind shows with Dr. Rashid A. Buttar and Robert Scott Bell, be sure to go to www.MedicalRewind.com to listen to the show replays.
..
TO DOWNLOAD: Click on "DOWNLOAD MP3" in the player below.
Get ready to learn things not traditionally taught to medical doctors!
Some of the things you will hear Dr. Buttar and Robert talk about in this week's show are:
Thousands sue Merck for shingles vaccine "causing what it's supposed to prevent".
According to the latest report on pesticide residues in food by the U.S. Department of Agriculture (USDA), a mere 15 percent of all the food samples tested in 2015 were free from pesticide residues. In 2014, over 41 percent of samples had no detectable pesticide residues on them. That just goes to show how quickly our food is being poisoned. At that trajectory, we may eventually find out none of the non-organic food sold in 2016 or 2017 was pesticide-free.
Faked X-ray reports. Forged retinal scans. Phony lab tests. Secretly amputated limbs. All done in the name of science when researchers thought that nobody was watching. That misconduct happens isn't shocking. What is: When the FDA finds scientific fraud or misconduct, the agency doesn't notify the public, the medical establishment, or even the scientific community that the results of a medical experiment are not to be trusted. On the contrary. For more than a decade, the FDA has shown a pattern of burying the details of misconduct.
A study by Georgia State University found that a certain cytokine can control whether immune cells promote or suppress inflammatory bowel disease. Cytokines are small proteins that help cells communicate during immune responses. Researchers identified a specific cytokine that they believe is responsible for whether immune cells promote or suppress inflammatory bowel disease, which could lead to new treatments.
… AND MUCH MORE – LISTEN NOW!
Is there life after Trans-D Tropin? YES there is. There is an option. Did you know about the FDA destroying supplement companies by claiming that their products are unapproved new drugs? Click here to read a special message and find out the alternative to Trans-D Tropin.
..
How can you get an Advanced Medicine Seminar in your city?
Just get 50 or more of your friends together and contact info@drbuttar.com to learn the details.
..
Remember to pick up the international best seller "9 Steps To Keep the Doctor Away!" http://www.the9steps.com/ (if you buy the book, you can get a DVD for an incredible discount!)
..
..