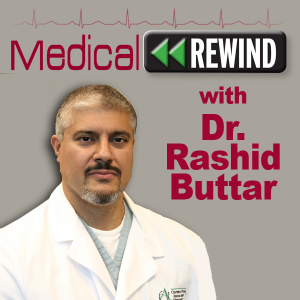 If you missed any of the Medical Rewind shows with Dr. Rashid A. Buttar and Robert Scott Bell, be sure to go to www.MedicalRewind.com to listen to the show replays.
..
TO DOWNLOAD: Click on "DOWNLOAD MP3" in the player below.
Get ready to learn things not traditionally taught to medical doctors!
Some of the things you will hear Dr. Buttar and Robert talk about in this week's show are:
Dr. Buttar was stung by a bee!  What a perfect opportunity to have a medical conversation about bee and wasp venom and treatment – at our poor friend's expense!
Medical Kidnapping –we refer back to yesterday's story from a listener out of Perth, Australia which shared a story about court-ordered chemo for kids against their parents wishes.  Who is in charge of our kids, the Church of Science, or us? What about the sovereignty of family – you should be sovereign over your own family, right?  How do we stand up for those rights?  What is the difference between Courage, and Bravery?  Mr. Bell and Dr. Buttar espouse upon the nuances between the two.
Finally we discuss the lingering distrust of doctors by the black community.  Could this stem from the tragic Tuskegee study?  There is no question that the Tuskegee study is one of the most horrific examples of unethical research in recent history. For 40 years, ending in 1972, members of the United States Public Health Service followed African-American men infected with syphilis and didn't treat them (although they told some men they did) so that they could see the disease take its course.
Another example of mis-treatment to this community in the name of science, is of course is highlighted in the movie Vaxxed – in theaters now, check your listings to see when it will be near you!
Something interesting about Dr. Buttar is that he claims to have a short attention span, (although anyone who makes it through medical school must be very focused, more likely he is just too smart for his own good, like many children diagnosed with ADD or ADHD – he just always needs a new challenge).
In his own practice, many of his patients are children with autism.   What is brilliant about his treatment process is that he has been able to identify that it is almost always mercury poisoning, usually from vaccines, and he has the detoxing system, as they say, "down to a science"!  How beautiful to be able to give those families clear direction and hope on an incredibly tough journey.  However, now that he has his staff so well trained, and his office running like a well-oiled machine, he relies on his pal RSB to keep him on his toes.  As he says on the show today, "I keep coming back, because it's just never boring!"
Is there life after Trans-D Tropin? Yes there is. There is an option. Did you know about the FDA destroying supplement companies by claiming that their products are unapproved new drugs? Click here to read a special message and find out the alternative to Trans-D Tropin.
..
How can you get an Advanced Medicine Seminar in your city?
Just get 50 or more of your friends together and contact info@drbuttar.com to learn the details.
..
Remember to pick up the international best seller "9 Steps To Keep the Doctor Away!" http://www.the9steps.com/ (if you buy the book, you can get a DVD for an incredible discount!)
..
..