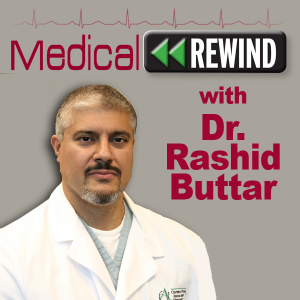 If you missed any of the Medical Rewind shows with Dr. Rashid A. Buttar and Robert Scott Bell, be sure to go to www.MedicalRewind.com to listen to the show replays.
..
TO DOWNLOAD: Click on "DOWNLOAD MP3" in the player below.
Get ready to learn things not traditionally taught to medical doctors!
Some of the things you will hear Dr. Buttar and Robert talk about in this week's show are:
Could a lung cancer drug work better with Coke?  "Cola intake led to a clinically relevant and statistically significant increase" in the absorption of Tarceva for patients taking Nexium, van Leeuwen's team reported online Feb. 8 in the Journal of Clinical Oncology.  What does Dr. Buttar have to say about it?

 
Did you know that New Zealanders are much more likely to have a garden than Americans? Yet, they also have very high cancer rates. Could it be the garden sprays? Or smoking?

 
Now that the Federal government has allocated funds for inquiry into artificial rubber turfs for playgrounds and childhood cancer, will they also acknowledge that injectable toxins may be problematic? We won't hold our breath.

 
What else will likely die in this semi-scientific endeavor? Probably common sense. Or has it long-since perished in our zeal to blame microbes for every disease actually caused by industry? And even if they determine that rubber tracks are not the cause of cancer, could it be the bio-accumulation of all things toxic?  Small amounts of lots of things add up to devastation, but provide plausible deniability to any one ingredient. Convenient. This is how they attempt to cover up the larvicide, DTaP, GMO mosquito contribution to microcephaly, by the way. Blame Zika.

 

Why would government and industry experts continue to deny cancer links to environmental and medical (iatrogenic) causes? Could it be embarrassment and liability? Or is it something more sinister? Yesterday, RSB and Super Don discussed the teacher with flatulence who was finally called out by her students. She eventually wrote a book called "If It's Not Food, Don't Eat It." How do we define food? What makes a Happy Meal happy if it won't decay?
Did you know about the FDA destroying supplement companies by claiming that their products are unapproved new drugs? Is there life after Trans-D Tropin? Yes there is. Click here to read a special message.
..
How can you get an Advanced Medicine Seminar in your city?
Just get 50 or more of your friends together and contact info@drbuttar.com to learn the details.
..
Remember to pick up the international best seller "9 Steps To Keep the Doctor Away!" http://www.the9steps.com/ (if you buy the book, you can get a DVD for an incredible discount!)
..
..