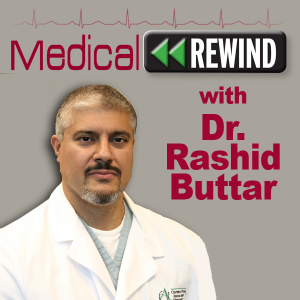 If you missed any of the Medical Rewind shows with Dr. Rashid A. Buttar and Robert Scott Bell, be sure to go to www.MedicalRewind.com to listen to the show replays.
..
TO DOWNLOAD: Click on "DOWNLOAD MP3" in the player below.
Get ready to learn things not traditionally taught to medical doctors!
Some of the things you will hear Dr. Buttar and Robert talk about in this week's show are:
Despite a massive international effort, several treatments that once held great hope for fighting Ebola have turned out not to work against the dreaded virus that killed more than 11,000 people in the most recent outbreak. Studies show these three treatments don't seem to work: 1) Blood donations from Ebola survivor.   2) Brincidofovir   3)TKM-Ebola.  While seldom, if ever, reported in the mainstream media, every week cases of vaccine injuries and deaths are litigated in the U.S. vaccine court known as the National Vaccine Injury Compensation Program (NVICP). If you want to know the true risks one takes when receiving a vaccine, do not depend on the pharmaceutical industry, government health officials, or the mainstream media.
With only three weeks left in the latest Affordable Care Act enrollment period, U.S. health officials and community advocates are ramping up efforts to sign up difficult-to-reach Latino Americans.
Potassium bromate, a chemical historically used to whiten and strengthen dough for baking, was declared unsuitable for use in flour by the World Health Organization and the United Nations' Food and Agricultural Organization in the early 1990s. In 1999 it was declared a possible human carcinogen by the WHO. There's also evidence that the chemical  damages kidney function in humans. Despite the myriad health dangers associated with potassium bromate, the Food and Drug Administration continues to allow its use as a food additive in baked goods.

Rep. Justin Amash (R-Mich.) on Monday chided President Obama for meeting with his favorite rapper but not finding time to talk with the lawmaker about civil liberties. Amash was responding to a report that Obama recently met with Kendrick Lamar in the Oval Office, where a White House aide said they shared a personal moment. Sen. Rand Paul hit the campaign trail this week promoting the latest version of his Audit the Fed bill, first pioneered by his father, former Congressman Ron Paul. The Pauls are longtime critics of the Federal Reserve, sounding the alarm that the semi-private bank artificially regulates interest rates and, according to Sen. Paul, exacerbates income inequality.
Did you know about the FDA destroying supplement companies by claiming that their products are unapproved new drugs? Is there life after Trans-D Tropin? Yes there is. Click here to read a special message.
..
How can you get an Advanced Medicine Seminar in your city?
Just get 50 or more of your friends together and contact info@drbuttar.com to learn the details.
..
Remember to pick up the international best seller "9 Steps To Keep the Doctor Away!" http://www.the9steps.com/ (if you buy the book, you can get a DVD for an incredible discount!)
..
..