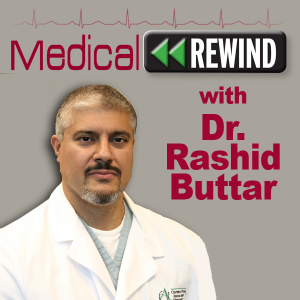 If you missed any of the Medical Rewind shows with Dr. Rashid A. Buttar and Robert Scott Bell, be sure to go to www.MedicalRewind.com to listen to the show replays.
..
TO DOWNLOAD: Click on "DOWNLOAD MP3" in the player below.
Get ready to learn things not traditionally taught to medical doctors!
Some of the things you will hear Dr. Buttar and Robert talk about in this week's show are:
MOD, (moment of duh) – Doctors who feel burned out or overwhelmed by the demands of work are less likely to view their work with patients as a "calling" that has meaning, according to a recent study.
Acute appendicitis is one of the most common reasons for performing emergency surgery in children. However, surgery can be costly and very unsettling for young patients and their families. Now, a fresh review of published evidence finds treatment with antibiotics could be an effective and safe alternative.
Cookies and sugary drinks served at government meetings are about to go away. So are imported noodles and canned fish served in tourist bungalows. Taking their place? Local coconuts, lobsters and lime juice. While many governments struggle to ban soda to curb obesity, the tiny Torba Tourism Council in the remote Pacific island nation of Vanuatu is planning to outlaw all imported food at government functions and tourist establishments across the province's 13 inhabited islands.
Lose Weight by eating fat? One brave woman share how it changed her life and even her doctors are impressed…
Got a tummy ache? We may know the cause! Researchers at Binghamton University in New York found that chronic exposure to titanium dioxide — an additive present in chewing gum, candy and bread — changed digestive cells' structure and function. Ultimately, the study suggests that frequent consumption of foods with the additive may lead to less nutrient absorption, impaired digestive function and a slower metabolism. Chronic exposure also led to more inflammation, an effect that is tied to chronic diseases such as cancer and heart disease.
… AND MUCH MORE – LISTEN NOW!
Is there life after Trans-D Tropin? YES there is. There is an option. Did you know about the FDA destroying supplement companies by claiming that their products are unapproved new drugs? Click here to read a special message and find out the alternative to Trans-D Tropin.
..
How can you get an Advanced Medicine Seminar in your city?
Just get 50 or more of your friends together and contact info@drbuttar.com to learn the details.
..
Remember to pick up the international best seller "9 Steps To Keep the Doctor Away!" http://www.the9steps.com/ (if you buy the book, you can get a DVD for an incredible discount!)
..
..