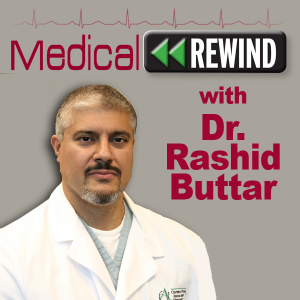 If you missed any of the Medical Rewind shows with Dr. Rashid A. Buttar and Robert Scott Bell, be sure to go to www.MedicalRewind.com to listen to the show replays.
..
TO DOWNLOAD: Click on "DOWNLOAD MP3" in the player below.
Get ready to learn things not traditionally taught to medical doctors!
Some of the things you will hear Dr. Buttar and Robert talk about in this week's show are:
Guess what?  RSB was right!  Lol, not for the first time. Cholesterol does not cause heart disease in the elderly and trying to reduce it with drugs like statins is a waste of time, an international group of experts has claimed.
Modern medicine is pretty clear about the health benefits of exercising regularly, eating a diet high in fruits and vegetables, not smoking, and consuming alcohol in moderation. It is well-documented that engaging in all four of these healthy habits can significantly reduce your risk of death.  But a recent study has shed light on a much less-research question: if you are overweight or obese, does being healthy do as much good as it does for thinner people?Or are you doomed to never be as healthy as "normal" weight people?
So despite the ongoing rise of cancer in America, still the only treatment recognized by the medical industry in mainstream media is chemo.  However, the painful, toxic, treatment has very limited success story, yet few are willing to admit there is any alternative, and the government has even started forcing parents to submit their children to chemo whether they want to or not.  Natural News published an article citing a list of specific reasons to stop depending on chemo, and it starts with this.: One: realize that the cancer industrial complex is one huge scam to make money off Americans' ignorance. Two: research organic food, organic remedies, and holistic therapies that have much higher statistics for preventing, treating and curing cancer.
We've talked a lot about the globally bestselling herbicide Roundup, and how toxic it is when it gets into our digestive systems. Well, now it can cause heart problems too,according to a study conducted by researchers from the University of Caen, France, and Sapienza University of Rome.
Is there life after Trans-D Tropin? Yes there is. There is an option. Did you know about the FDA destroying supplement companies by claiming that their products are unapproved new drugs? Click here to read a special message and find out the alternative to Trans-D Tropin.
..
How can you get an Advanced Medicine Seminar in your city?
Just get 50 or more of your friends together and contact info@drbuttar.com to learn the details.
..
Remember to pick up the international best seller "9 Steps To Keep the Doctor Away!" http://www.the9steps.com/ (if you buy the book, you can get a DVD for an incredible discount!)
..
..