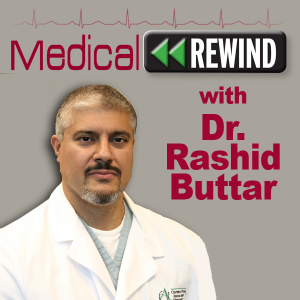 If you missed any of the Medical Rewind shows with Dr. Rashid A. Buttar and Robert Scott Bell, be sure to go to www.MedicalRewind.com to listen to the show replays.
..
TO DOWNLOAD: Click on "DOWNLOAD MP3" in the player below.
Get ready to learn things not traditionally taught to medical doctors!
Some of the things you will hear Dr. Buttar and Robert talk about in this week's show are:
When it comes to antidepressants and many other drugs, double-blind drug trials are a complete fraud. Here's why: "Double-blind" means that one group gets a placebo while another group gets the real drug, but neither group knows what they're actually getting. This is supposed to sort out the placebo effects (which are real but discarded by scientists who don't believe in "mind-body medicine") from the "real" drug effects (which are considered legitimate because they are caused by chemicals) and provide proof that the drug in question works better than placebo.  There's only one problem with all that: The patients realize they have the "real" drug when they start experiencing horrific side effects!
YOU are America's immune system against political corruption, media malfeasance and government criminality… and you've just been activated!  As we have discussed may times here on the Robert Scott Bell show, the power to heal is yours – and that doesn't just mean physical healing.  Mind, body, spirit, we all have to take steps every day to heal ourselves, our families, and our nation.  We can't wait and expect that those who have created the corruption are going to suddenly turn over a new leaf, let's start a movement from the ground up!
Artificial sweetener aspartame is indeed a Schedule II narcotic, because the methanol in aspartame affects dopamine levels in the brain, which can lead to addiction. Methanol, or wood alcohol, is classified as a severe metabolic poison.
When your tummy is little, it doesn't take much! British researchers found that overweight infants and toddlers don't eat more often than their normal-weight peers, but they do consume just a little bit more food at each meal. The overweight youngsters had about 141 calories at each meal. The normal-weight babies and toddlers had about 130 calories at each meal, the study found."Although the difference in average meal size between the overweight and healthy-weight children seems small [11 calories, perhaps an extra spoonful of baked beans with a meal] children are eating on average five times per day so the difference over the course of a week is considerable," study author Hayley Syrad, from University College London, and colleagues, wrote.  It would be helpful to understand if there was any difference in the quality or freshness of the food as well.
Is there life after Trans-D Tropin? Yes there is. There is an option. Did you know about the FDA destroying supplement companies by claiming that their products are unapproved new drugs? Click here to read a special message and find out the alternative to Trans-D Tropin.
..
How can you get an Advanced Medicine Seminar in your city?
Just get 50 or more of your friends together and contact info@drbuttar.com to learn the details.
..
Remember to pick up the international best seller "9 Steps To Keep the Doctor Away!" http://www.the9steps.com/ (if you buy the book, you can get a DVD for an incredible discount!)
..
..