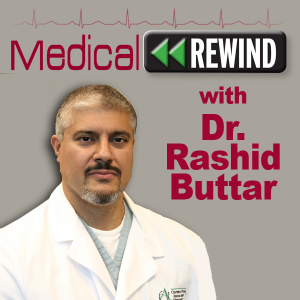 If you missed any of the Medical Rewind shows with Dr. Rashid A. Buttar and Robert Scott Bell, be sure to go to www.MedicalRewind.com to listen to the show replays.
..
TO DOWNLOAD: Click on "DOWNLOAD MP3" in the player below.
Get ready to learn things not traditionally taught to medical doctors!
Some of the things you will hear Dr. Buttar and Robert talk about in this week's show are:
A report by the Canadian Cancer Society revealed that nearly half of the general population may be diagnosed with certain types of cancer in their lifetime. Data from the Canadian Cancer Statistics annual report for 2017 showed that 49 percent of men and 45 percent of women were expected to develop cancer. These rates were significantly higher compared with last year's report where 45 percent of men and 42 percent of women were likely to develop the disease.
A major doctors' group hopes to put an end to a great irony served up daily at most U.S. hospitals: The food offered there tends to contribute to obesity, diabetes , heart disease , stroke and cancer — the very same conditions for which many of the hospital patients are seeking treatment.
A United Nations Health Rights expert, Dr. Dainius Pūras, has issued a report calling for mental health care to move away from a biomedical (drug) model. The mental health industry watchdog Citizens Commission on Human Rights says the drug model has led to 8.4 million children — 1 million aged five or younger — being prescribed psychiatric drugs in the U.S. alone.

Aluminum in Vaccines: History and Toxicity. Got cognitive dissonance California Democrats?
… AND MUCH MORE – LISTEN NOW!
Is there life after Trans-D Tropin? YES there is. There is an option. Did you know about the FDA destroying supplement companies by claiming that their products are unapproved new drugs? Click here to read a special message and find out the alternative to Trans-D Tropin.
..
How can you get an Advanced Medicine Seminar in your city?
Just get 50 or more of your friends together and contact info@drbuttar.com to learn the details.
..
Remember to pick up the international best seller "9 Steps To Keep the Doctor Away!" http://www.the9steps.com/ (if you buy the book, you can get a DVD for an incredible discount!)
..
..